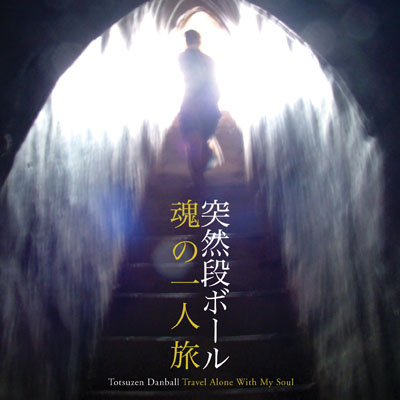 Totsuzen Danball
Travel Alone with My Soul


(JCRCD-0026, limited 200 copies)



Refreshed old songs and fresh new songs
with two versions each!

01. Pettara Petarako Pettakko
02. Jelly Beans Say
03. Whiteman
04. A Desert Island
05. Hey!
06. Pettara Petarako Pettakko

(tour du monde)


07. Jelly Beans Say

(wrap round)


08. Whiteman

(everybody loves)


09. A Desert Island

(step outside)


10. Hey!

(go for it!)



Produced by Toru Matsuura, Syunji Tsutaki. Recorded by JCR May - July 2010. Mixed, Remixed by Yasuhiro 'Yeppie' Yamaoka.
Syunji Tsutaki: Vocal, Chorus, Guitar, Bass & Drum Programming. Yasuhiro 'Yeppie' Yamaoka: Electronics.
Photo & Design by Yasuhiro 'Yeppie' Yamaoka at YOWorks.

Trial Listening (pop-up)



See more titles at


iTunes Store US | JP // Amazon US | JP // YouTube

Totsuzen Danball official website
About Totsuzen Danball
Formed by the Tsutaki brothers as a performance group for art events in 1977. Under the influence of the global Punk/New Wave movement, their debut was with Trio Records in 1980. Since then, they have run their own label FLOOR (Nippon Cassette Tape Recorzing), releasing albums continuosly. Later, Tokuma Japan Communications re-issued all of their titles through CDs. They cover many styles in the pop/avant-garde territory with rock band form/improvisation by guitar & effectic percussion/Apple Macintosh based computer programming, etc.

Selected Discography
Whiteman

(1980)

, Naritatsukana?/Can I?

(1981)

, Yokushi Onryoku

(1991)

, Fubi

(1991)

, Sukidayo

(1993)

, Super

(1995)

, I Love Love

(1997)

, Kanshoh Ongaku

(1999)

, Kono Yo ni Nai Busshitsu

(2002)

, Junsui de Socchoku na Omoide

(2007)

, D

(2008)

, Arikitari no Shinpo

(2011)

.

What's happened?!
Why has YOWorks collaborated with the legendary Japanese rock band Totsuzen Danball (translated as sudden cardboard). It is the magic of the web. Do you believe in magic? I do! I met Toru Matuura; the guitarist from Totsuzen Danball through the web. One day, I got an emergency call from him, searching for someone to mix down their new recordings for the promotion. Yes, OK. Why not? Oh it's my pleasure!



Yamaoka Yasuhiro August 2010.